Full-Service Human Resource Solutions in Metro Detroit
---
We Help You With HR Services So You Can Run Your Business
With Sage Solutions, your focus can be on increasing sales, improving services, and satisfying your customers. Whether you are a start-up, medium-sized business, or somewhere in between, managing or growing an HR department takes time and money.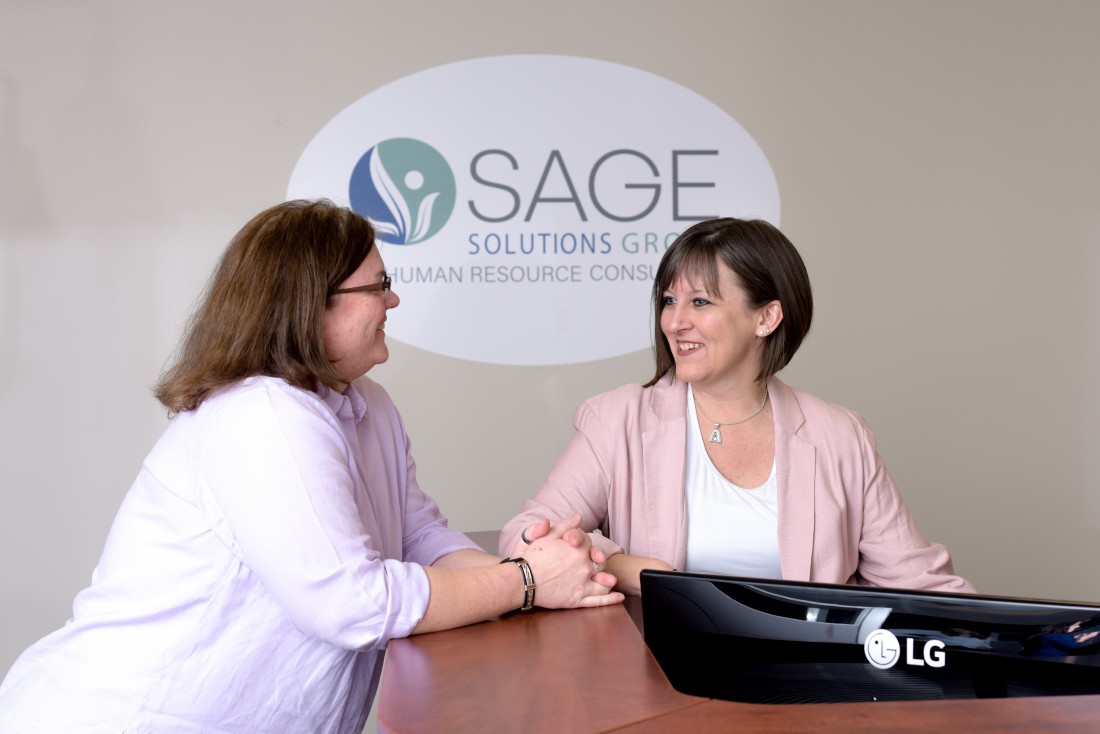 Our HR consultants provide human resource outsourcing so that you do not have to hire a complete human resources team. We can work with your current HR clerk and human resource department to fill certain gaps within your organization so that you can spend your time and energy managing and growing your business.
Sage Solutions Group Provides Professional HR Solutions for Detroit MI Companies
HR solutions that we can provide most industries, depending on your customized action plan, may include human resource management, training, and some of the following:
Recruiting and Staffing Assistance
Talent Acquisition & Retention of Quality Employees
Payroll and Employee Benefits Administration
Creating an Employee Handbook
Training for In-House HR Management Staff
Human Resource Risk Management
Government Compliance Solutions and Training
Human Capital Management and Workforce Diversity Consulting
Employee Engagement and Meeting Facilitation
Performance Management and Employee Relations
Human Resource Critical Issues Management
and many other time-consuming HR solutions!
We can take care of the paperwork. We can be all in, meaning, if you have no HR professionals, we can remotely handle everything HR related, from new hires and payroll to safety programs and compliance. Or, if you have an HR clerk or office manager, we can provide the tools and support to help that person manage the responsibility.
We're always ready to roll up our sleeves and get working right alongside your team- even if your operational hours fall outside of our operational hours. Our focus is to bring our clients the HR solutions, expertise, and comprehensive action plan that benefits their organization.
---
Stay Compliant with Our Cost-Effective HR Consulting Services and Operations Functions
As a business owner, you may not be familiar with many of the rules, regulations, and laws regarding employment practices that include staffing, terminations, payroll, and paid/unpaid leaves of absence. Failing to comply with just one of the many federal, state, and local laws can be costly. These unintentional negative consequences and potentially devastating setbacks to your business come in the form of lawsuits, legal actions, and fines.
Sage Solutions has the expertise to understand your operations and help ensure your business practices and paperwork are compliant with government regulations. Our HR consultants offer full-service human resource management programs to fill a void or replace an existing human resource management team, as well as offer services to assist HR professionals in daily HR duties. If needed, we can help recruit, retain, or manage employees as well as handle the tough stuff like investigations and terminations.
---
Reasons Why You Need an HR Outsourcing and Consulting Services
Read our case studies to see how small mistakes can be costly and detrimental to businesses with even one employee.
Case Studies:
Safety Consulting
Even the smallest of companies must comply with health and safety laws. Failing to do so could cost you your business. Take a tree service & landscaping company in Bay City as an example…
The nine-employee company specializes in the installation of ornamental shrubs and tree services. Despite its size, MIOSHA inspectors found that this small business had failed to abate safety issues such as not having proper personal protective equipment, rescue procedures, a written hazard communication program, and did not maintain minimum distances to energized conductors. Based on its continued failure to abate safety issues, MIOSHA ordered the company to cease operations.
A Cease Operation Order is one of the strongest enforcement actions MIOSHA can take against employers. This order can be removed by MIOSHA once the company corrects the cited hazards. However, the costs to a company's reputation, employee safety, and fines can spell disaster for a small business.
Clearly, it is critical that organizations understand their requirements to provide employees with a safe work environment under Michigan law. As part of the initial free assessment, Sage Solution's HR consultants will review your safety compliance to determine if you meet the minimum requirements. If you do not, Sage offers solutions that can assist you in obtaining compliance. Contact us if you want to be compliant!
FLSA Consulting Service
Paying employees correctly under state and federal (and sometimes local) law is critical. Failure could result in devastating fines capable of crippling a small business.
Lately, nail salons are coming under fire for their practice of paying their workers a flat rate of pay plus commission regardless of the hours worked. Many employees in this industry work more than 40 hours a week. Therefore, a flat rate of pay will not typically take into account overtime for the hours worked in excess of 40. Six New York nail salons received lessons in this faulty pay practice costing them nearly a quarter of a million dollars in back wages and damages. In fact, New York has formally launched a task force specifically focused on nail salons... to date, 150 additional salons have been found to be in violation with fines pending over $2,000,000.
The aforementioned practice is very common here in Michigan as well. Sage recently consulted with one such high-end salon and successfully ensured legal compliance as well as developing a compensation plan attracting the highest caliber of employees in the industry.
I-9 Compliance Consulting
There are few things that rival the tedious nature of completing the Federal I-9 Form. That being said, there are also a few things that rival the relative penalties for incorrectly filling out the same. Perfection is deemed to be the required standard in documentation, so much so, that a material number of fines imposed by U.S. Immigrations & Customs Enforcement (ICE) are related to clerical errors on the I-9 as opposed to penalties for actually hiring people not authorized to work in the country.
For example, an Arizona Golf Club failed to properly complete sections one and two of the I-9… the related fine sought by ICE… $136,697.
In conducting our free initial audit, Sage has found that 15% of small business owners were completely unaware of the need to complete the I-9 Form. Nearly 75% of these employers were filling out the form incorrectly.
Sage's HR consultants will provide a simple step-by-step process for completing the I-9… and as always, we are just a phone call away from those odd questions that always arise with administrative paperwork. Contact us today to get started!
Professional HR Service Plans
Here's what you get with a Sage Solutions HR Professional Subscription:
Initial Compliance Audit
During our FREE HR Assessment, our expert HR consultants will work with you or your office manager to review employee files, paperwork, and such to create a custom HR Health Assessment that highlights current vulnerabilities, provides observations, and offers recommended HR consulting and HR services you should consider to be compliant and protect your business.
Access to Sage's Online HR Compliance Toolkit
Our HR solutions include exclusive access to the Compliance Toolkit which contains the forms, reporting, government updates, and mandatory posters to help you meet the specific compliance requirements of your company.
Ongoing Support for HR solutions
Personalized help and support service for our HR solutions and management training are just a text, email, phone call, or in-person visit away.
Constant Monitoring of HR Solutions and Your Business
We will keep you informed of the changes in human resources laws and forms so you can keep your employee paperwork, benefits administration, organization policies, and management and technology procedures up to date and in compliance. We will also provide additional audits throughout the year to determine if your company's health rating improves.
---
Don't hesitate to
contact us
today and learn how we have helped our Detroit MI clients - from start-ups to small and medium-sized businesses and organizations succeed with our focus on strategic human resources solutions!